HAIR SERVICES
Men's Haircut $40
Men's Haircut & Beard Trim $58
Ladies Haircut w/Blow-dry $63 and up
One Step Hair-color $63 and up
Highlights $78 and up
Hair Painting $63
Beard Trim Only $26
NAILS
Regular Manicure $26
Regular Pedicure $47
Spa Manicure $37
Spa Pedicure $68
MASSAGE
Deep Tissue Massage
60 Minutes $130
90 Minutes $177
120 Minutes $207
60 Minute Hot Stone Massage $130
Body Scrub Only 30 Minutes $63
Men's Grooming Spot Specials
60 Min Massage & 30 Min Scrub $151
90 Min Massage & 30 Min Scrub $207
NEW MASSAGES!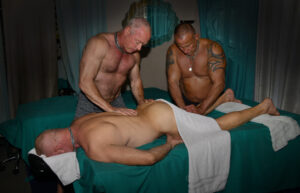 Four Hand Muscle Daddy Massage 60 Minutes $286
Four Hand Muscle Daddy Massage 90 Minutes $390

WAXING (HAIR REMOVAL)
Brazilian $89
Foot $32
Neck $32
Hands $32
Buttocks $68
Full Leg $84
Half Leg $44
Full Arm $68
Half Arm $47
Back $68
Chest $58
Stomach $58
Under Arm $48
Nose $32
Ear $32
Crack Only $42
Full Body $310 and up
MANSCAPING BODY GROOMING
Full Body $146
Brazilian $52
Buttock $37
Back $37
Chest $42
Eyebrow (tweezing) $21
Full Arm $32
Half Arm $21
Full Leg $32
Stomach $21
PACKAGES
MGSpot Facial & 60 Min Deep Tissue Massage $219
This treatment includes cleansing, polishing, and therapeutic massage.
Gentle facial for cleaning and extraction based on your skin type.
Targeted deep tissue massage to relieve pain, increase motion and get rid of knots.

MGSpot Maintenance Package $177
Manicure, pedicure, and a targeted deep tissue massage.

MGSpot VIP Package $286
Deep tissue massage, Men's Grooming Spot Spa facial, Spa manicure,
and Spa pedicure.
All services are done in a private, men-only setting,
where personal attention is given to all spa clients.